'Tis the season for a Project Highrise update! We've just released version 1.3.0 with a bunch of exciting additions. Here's what's new: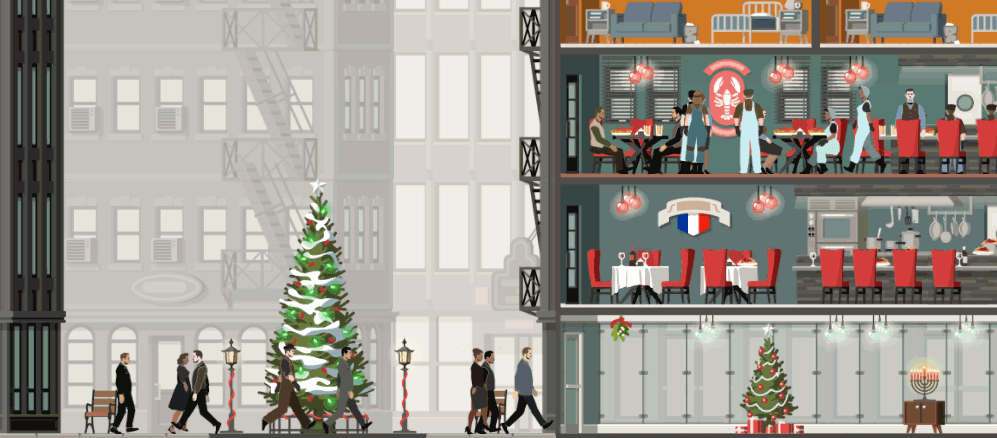 With new holiday decos, you can get your skyscraper into a festive mood inside and out. Add everything from some diminutive yet mischievous mistletoe hanging over a doorway to a majestic two-story outdoor Christmas tree to spread joy to passersby.
While the season for enjoying outdoor dining and reading the newspaper outside is well behind us here in Chicago, it's just getting warmed up in Project Highrise. Posh patios provide your apartment dwellers space to enjoy the great outdoors from on high.
Luxury penthouse apartments make your skyscraper more attractive to the city's elite residents searching for high-end housing with a view (and a hot tub).
New restaurants feature outside eating and drinking spaces. Beer gardens on the roof give office workers, residents and visitors alike a place to quaff their brews with skyline views.
For the ultimate in fine dining, diners will enjoy feasting under the stairs en plein air well above the din of the city streets at famous rooftop restaurants.
A few other features are also debuting with the latest update:
If you don't want to worry about economics and just want to architect the greatest building in the world, you can now start a new game in Unlimited Mode. Unlimited Mode starts you with lots of cash, prestige, influence and buzz and then gives you a refill every day at midnight.
Want to build an eco-friendly skyscraper? The new "Going Green" scenario incorporates the new rooftop apartments and restaurants into your medal goals along with some added utility challenges.
Look out for occasional white stuff falling from the sky!
A full list of updates is available here.
Finally, Happy Holidays and Happy New Year from SomaSim. See you next year!