Hello everyone! We're excited to reveal our brand new DLC City of Gangsters: Shadow Government as well as 5 new Content Packs!
Discover New York, our biggest map yet, control city politicians, manipulate laws and explore the unique abilities of the English, Irish, German, Italian and Polish outfits!
These new DLC packs will be available June 15 and we can't wait to share more info with you soon! Take a sneak peek below at some of the stuff you can expect to see.
In our new expansion pack City of Gangsters: Shadow Government you'll be able to use your profitable booze operations to finance successful election campaigns. Use your control over large swaths of the city to ensure high turnout of voters who know exactly which ballots to cast.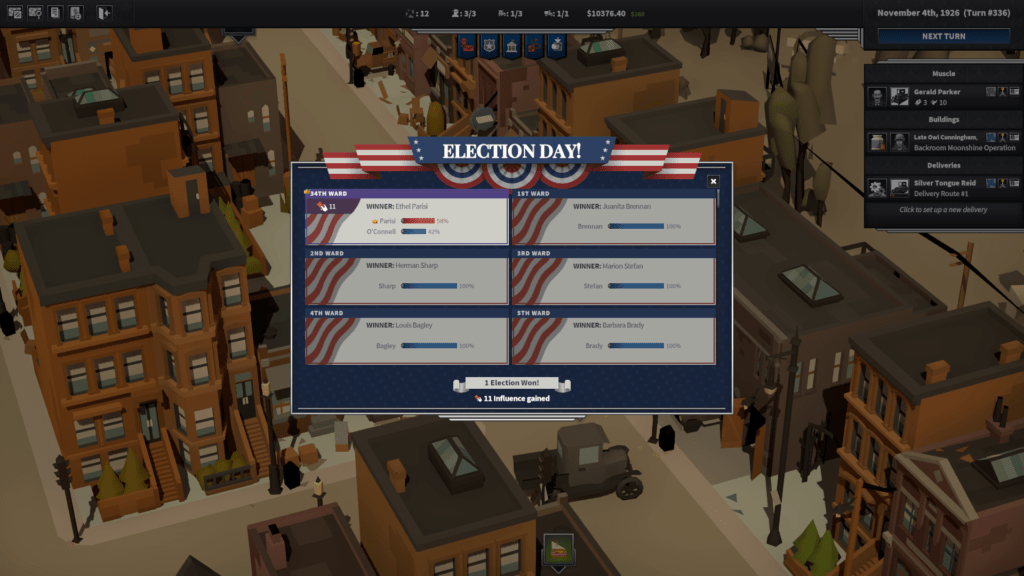 Once the local city council members are your puppets, you can pull on their strings to get them to enact – or repeal – various city laws that can help your outfit or hurt your opponents. Who knows? Maybe one day you'll even get to pick the mayor of the whole city…
This expansion pack also includes a new map: New York City! It's an ideal spot to get into politics with your outfit's ill-gotten gains as you expand across Brooklyn, Bronx, Queens, and Manhattan. This is our biggest map yet, full of great opportunity and even greater competition.
Our new Outfit Content Packs will introduce flair to some of the larger ethnicities represented in each of the city maps, with visual updates and new game mechanics available in our English, Irish, German, Italian and Polish content packs.
New portraits, legacy goals, quest lines, levelups and even more bootlegging opportunities await!
Alongside these new content packs, we'll also be releasing a free update which includes improvements to rival relations.. You'll be able to explore new options for diplomacy with rivals, such as convincing them to stay away from your territory. There will also be a quality of life update which will allow you to dismantle your operations after they've been built, – a sought-after change in the City of Gangsters community!